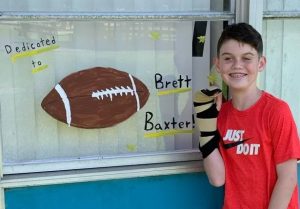 Every year, 170 local Children's Miracle Network Hospitals identify a "Champion" in each local community to serve as the face for children treated at their local children's hospital. These ambassadors spend their year advocating for the charitable need of children's hospitals across North America. This year, the Children's Miracle Network at CHRISTUS Southeast Texas is thrilled to introduce Brett Baxter as the 2023 CMN Champion!
Early in the spring of 2022, Brett Baxter, at the time, a 13-year-old athlete at Vidor Junior High School, was playing football with his friends during lunch when he dove for a pass and fell through a nearby window, causing a severe injury to his arm. The wound severed his radial artery, severely damaging a major vein and tendons. Mark Steele, the campus police officer, now employed by the Orange County Sheriff's Office, was present at the time and acted fast, putting his STOP THE BLEED training into practice by using a tourniquet to stem the bleeding and stabilize Brett until medical help arrived. Once transported to the emergency room at CHRISTUS Southeast Texas – St. Elizabeth, Brett was quickly attended to by the trauma team and Dr. David Parkus, who ordered a blood transfusion and surgery to repair the damage. Brett needed extensive therapy to regain function in his hand, which was accomplished with his characteristic determination and the help of his occupational therapists.
Throughout his ordeal, Brett maintained a positive outlook that buoyed his family and caregivers. With the help of those who cared for him, Brett fully recovered and can once again enjoy his favorite activities, such as playing basketball with his friends. His experience also served as a reminder of the importance of the STOP THE BLEED training, which can save lives in the future. Additional assistance from the hospital's Child Life Specialist, Nicole Albert, helped keep Brett and his family informed and cared for throughout his time in the hospital.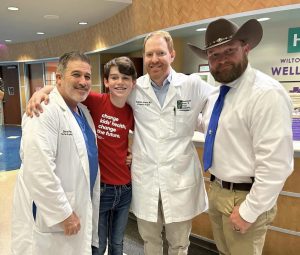 Dr. Parkus – Trauma Surgeon, Brett Baxter, Dr. Jones – Orthopedic Surgeon, Officer Mark Steele