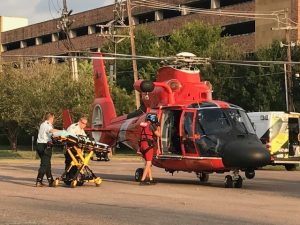 CHRISTUS St. Elizabeth Hospital stayed open and operational throughout the worst of Hurricane Harvey, using scarce medical resources to care for an average of 200 patients a day.
At least 400 of our associates lost or had significant damage to their homes. Many of our nurses traveled in dangerous conditions, taking boats to traverse the flooded roads and get back to the hospital, to care for patients.
CHRISTUS nurses, physicians, first responders, and administration went beyond their normal duties to answer the call of service during a time when the community needed them most. In addition to caring for patients, CHRISTUS also took in evacuees – entire families – who had nowhere else to turn, who had just lost their homes and everything they owned.
During the storm:
706,000 gallons of water were trucked in from a neighboring city to support our patient care
Over 2,500 Emergency/Trauma patients were served
100 RNs and support staff came from neighboring CHRISTUS Health Systems
79 babies were delivered
11 NICU babies were temporarily transferred out to neighboring CHRISTUS systems, and were transferred back as soon as possible for their continued care at St. Elizabeth
9 major surgeries were performed, including craniotomies, heart surgeries, and hip surgeries
Now, more than ever, we are relying on
YOU

to continue our healing mission.