Nursing is a calling, a way of life
Nursing is a service profession that cannot be lived in isolation. Nurses rely on each other for the synergistic effect of teamwork in our efforts of caregiving. It is appropriate that we honor our colleagues not only during their career, but also at the end of life's journey.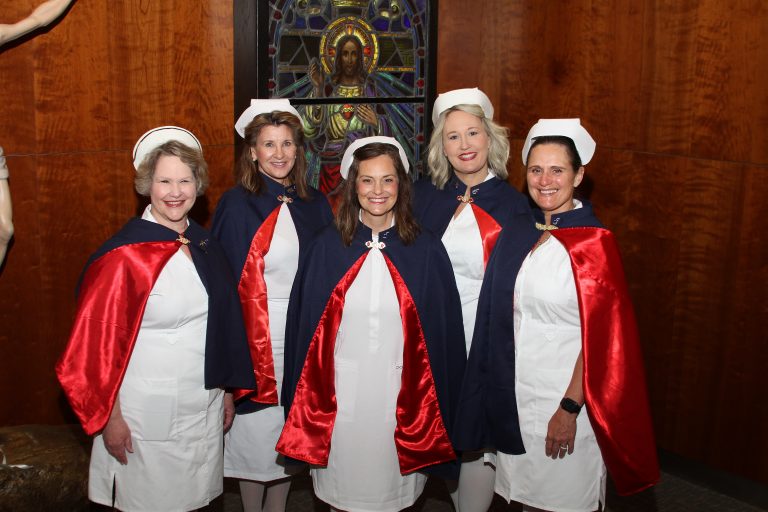 The CHRISTUS Southeast Texas Nurses Honor Guard pays tribute to nurses at the time of their death by performing the Nightingale Tribute at the funeral or memorial service.
This service is similar to a military tribute and officially releases the nurse from their nursing duties.
The Nurses Honor Guard dresses in the traditional white uniform, complete with cap and cape.
The ceremony is brief; it takes about five minutes and consists of reciting the Nightingale Tribute and laying a white rose on the casket or next to the urn, symbolizing the nurse's dedication to the profession.
After the Nightingale Tribute is recited, a triangle is rung after a roll call for the nurse. The nurse's name is called three times, and the triangle is rung after each call of the name. After the roll call, the words are spoken that the nurse is officially released from their nursing duties.
A lit Nightingale lamp is carried up at the beginning of the ceremony and is then extinguished and presented to the family with personal condolences made.
Order Your Honor Guard T-Shirts
Check out our designs and colors below, and then get your favorites with our secure order form:
Thank you for your interest! Online orders for the Nursing Honor Guard shirts are closed at this time. We appreciate your continued support!