On January 29, 2020, the CHRISTUS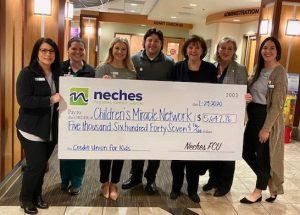 Southeast Texas Health Foundation and Children's Miracle Network (CMN) welcomed Neches Federal Credit Union's Marketing Team to CHRISTUS St. Elizabeth for a check presentation of funds raised in 2019. We want to thank Neches Federal Credit Union for their generous donation. The money raised will directly benefit local kids through the CMN.
During their visit, the group toured the Neonatal Intensive Care Unit (NICU) and the Pediatrics floor, giving them an up-close view of the equipment and improvements made thanks to the funds raised by the foundation and CMN.