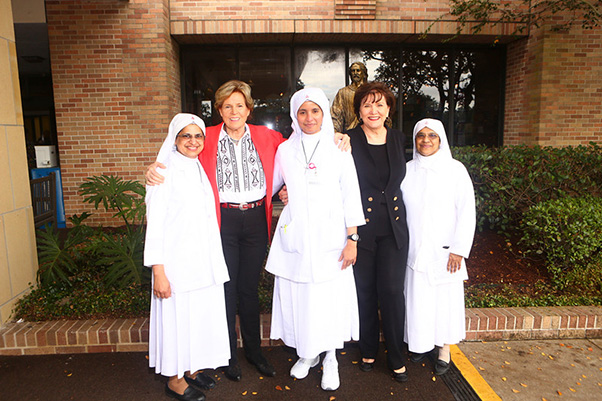 The CHRISTUS Southeast Texas Foundation worked with artist and sculptor Marsha Elmore, originally from Southeast Texas, to acquire a 7 ft. bronze statue of Jesus Christ. The life size bronze of Jesus Christ is Marsha's latest commission and represents a spiritual pinnacle for her. She worked on this statue for two years, the longest she has worked on any piece of art. On display near the front entrance of the hospital, this statue will now be a constant reminder of the CHRISTUS mission – extending the healing ministry of Jesus Christ. This statue will offer peace, hope, and healing to all who enter the doors of CHRISTUS Southeast Texas St. Elizabeth.
The dedication ceremony was held on Tuesday, October 11 with CHRISTUS administration, associates, and Sisters, along with community members and the media. The ceremony was a beautiful and spiritual affair, with a blessing of the statue and addresses made by CEO Paul Trevino, Foundation President Ivy Pate, and Sculptor Marsha Elmore.
"This statue of Jesus Christ is much more than a piece of art. It is a part of Marsha's ministry. And it is now a part of the ministry of CHRISTUS, where we are focused on offering a spiritual approach to health care," said Foundation President Ivy Pate.
Ms. Elmore is the daughter of Dr. and Mrs. D.M. English. Dr. Dudley English practiced medicine in Beaumont until he retired in 1979. She was married to Dale Elmore and they had three children: Teak Elmore, Meg Elmore Clark, and Josh Elmore. Marsha, Dale, and their family moved to Hunt, Texas in 1979 to run Camp Waldemar, a Christian-based all girls' camp. Her "second" career in sculpting has been commission based, along with her work in private collections, six of which are located at the Beaumont Court House.