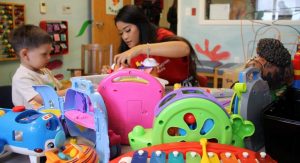 On July 10, students from Lamar University made a generous donation to the Effie M. Hebert Pediatric Center's playroom at CHRISTUS Southeast Texas St. Elizabeth. Their donation was revealed and blessed in a ceremony held for hospital associates, patients, and visitors.
The students are part of a new organization, Lamar University Dance Marathon (LUDM), that raises funds year-round for local Children's Miracle Network Hospitals, CHRISTUS Southeast Texas St. Elizabeth and Jasper Memorial. The students raised money through peer-to-peer fundraising, giveback nights at local restaurants, and their big event, Dance Marathon. Dance Marathon is a celebration held on campus where students get to meet the families of patients treated at their local hospital, participate in games and dancing, enjoy entertainment, and reveal their annual fundraising total.
This year, they decided to use the nearly $5,000 they raised to purchase new toys and furniture for the hospital's Pediatric Center playroom. On the day of the ceremony, the students worked all morning to put the new furniture together and organize the toys before debuting the revived playroom to the hospital. During the ceremony, the group's president, Cade Johnson, said he and a few of the other LUDM members spent a significant amount time in the hospital as children and knew firsthand how it feels for a young child to be bored during a hospital stay.
"We just wanted to create an area where kids would have fun and enjoy being here with their families," Johnson said. "Hopefully, this will make the hospital a little more inviting for pediatric patients and help them be less nervous when they visit the doctor."
At the end of the ceremony, Father Emmanuel Chikezie blessed the donation and associates gathered to thank the altruistic students while enjoying refreshments donated by Gigi's Cupcakes.
"I am immensely grateful to the Lamar University Dance Marathon students. Their donation is going to help our pediatric patients and their families have a more relaxed hospital stay," said Melissa Conley, Program Manager for Children's Miracle Network Hospitals at the CHRISTUS Southeast Texas Foundation. "It's inspiring to see these Lamar University students put their heart and soul into a project that will have such a great impact on our hospital."