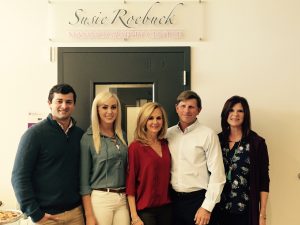 The CHRISTUS Southeast Texas Foundation is proud to announce that, after raising funds through local foundations and local individual philanthropists, we have purchased a 3D mammography system for the CHRISTUS Southeast Texas Outpatient Center Mid County. Thank you to Mike Roebuck and family, the Mildred Yount Manion Charitable Foundation, the Mamie McFaddin-Ward Heritage Foundation, and each of our private donors for allowing us to bring cutting-edge technology to our Mid County – specifically Port Arthur – residents in a spa-like, outpatient setting.
The new Women's Center has been named the Susie Roebuck Mammography Center as a loving tribute from Mike Roebuck to his mother. "This will be a timeless memorial to Mike's mother and to the bond that they shared," said Ivy Pate, CHRISTUS Southeast Texas Foundation President. "Her memory will live on in the life-saving services that will be provided year after year to the women in Mid County." The center's primary objective is to increase early cancer detection and early intervention to save lives of patients utilizing Hologic's Genius 3D Mammography system with biopsy capabilities.
The CHRISTUS Southeast Texas Foundation is proud to offer CHRISTUS patients in Mid County – mothers, daughters, sisters, aunts – access to the highest level of efficiency and accuracy in breast cancer prevention and treatment.