Leslie's Story: I am a Breast Cancer Survivor!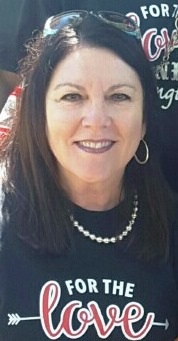 My name is Leslie Eldridge and I am a breast cancer survivor. I have worked for the CHRISTUS Southeast Texas Health System for 36 years. I am the Director of Medical Staff Services.
Nine years ago, at a time in my life when I was having annual mammograms, I found a lump through a breast self- examination. A couple of weeks later, I went to have it checked and had a mammogram and then an ultrasound. The radiologist came in that day and showed me the photo, which had a lot of dark spots, and said I would need a biopsy because it looked suspicious.
This was devastating news to receive.
This was 9 years ago, before CHRISTUS had 3D, so my mammogram was done with 2D technology, which does not show as clear of a picture. The 2d mammogram showed a suspicious spot which needed to be biopsied. Then when I went to have a 3D mammogram, it showed several suspicious spots, and I ended up having 8 biopsies that day. The 3D mammogram showed a more accurate picture of my cancer diagnosis which helped us immediately create a treatment plan.
I am a firm believer that state of the art technology and early detection is key. It takes a lot of the guesswork and worry out of the process. After six months of chemo, I had a mastectomy. After that, I had 13 weeks of radiation. Throughout the entire treatment process, I continued to work at CHRISTUS. Administration worked to accommodate me, and my coworkers were very understanding. The CHRISTUS physicians, many of whom I worked with, were always checking on me. It was very helpful to work in a supportive environment during this emotionally and physically stressful time of my life.
I have now been cancer free for 9 years.
As a major hospital system, we owe it to the women of Southeast Texas to offer the latest breast cancer detection technology at all of our hospitals.