Cindy's Story: Early Detection Saved My Life!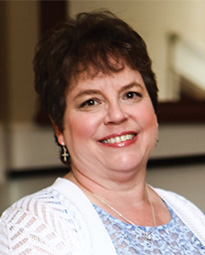 My name is Cindy Derouen and I have been married to my husband, Jody, for 35 years. We have 2 children, a son Clinton (27), and a daughter Brittany (23). I am employed with CHRISTUS Southeast Texas Health System as a Medical Technologist in the Laboratory. I enjoy shopping, painting, crafts, and my Zumba exercise class.
In February 2012 at the age of 51, I was diagnosed with Stage IIB Invasive Lobular Breast Carcinoma. Only 20% of breast cancers are lobular and 5-10% of lobular cancers are invasive. Since I turned 40, I always had regular mammograms every year including magnifications to evaluate suspicious areas. When I had my yearly mammogram in December of 2011, the radiologist noticed that my breasts did not look symmetrical. Both sides did not match in symmetry. An ultrasound was performed and two tumors were discovered. This prompted a MRI and a 3.2 cm mass was discovered in my left breast which later proved to be malignant. The other tumor which had been watched for years was benign. What I was told is that lobular cancers blend well into breast tissue and are not always seen on a mammogram . Wow, so my cancerous lump was discovered by accident when investigating a benign lump. Feelings of anxiety rushed over me. I knew well about cancer because my father had passed away from prostatic cancer in 1994. My husband had just recently been forced to take early retirement at age 53. He had been searching employment in the Houston area. Our lives were changing quickly and becoming very chaotic and stressful.
The day of my biopsy, I was calm. Somehow I knew that I was going to get the diagnosis of cancer. The radiologist was pretty certain that one of the masses was malignant and the other one was benign. When I walked out of the biopsy room, I was met by an amazing woman named Billie Loncon, from the Christus Breast Navigation program. I had never met her before, but she took me into her room and spoke positive words of encouragement to me for over an hour. Reality was setting in and I was very anxious. We talked and I cried, told her of my concerns and her words kept ringing in my ears. Cindy you are a strong woman and you are going to do whatever you need to do, to Take Care of You. She was so right and I am so grateful for her. I still tear up just thinking of that day.
I opted for a bilateral mastectomy and surgery was performed on March 3, 2012. I was very blessed that my cancer had not spread and my four lymph nodes removed were all negative. Oncotype DX gene testing was performed on the tumor and it showed a low recurrence rate, therefore no chemotherapy was indicated, just Tamoxifen for 5 years. How truly Blessed was I. What I realized from this experience is that God wants us to be dependent on Him, Our Father. To be truly honest, I don't know how people go through life without God. I was so afraid, uncertain of the outcome, but with the help of my friends, coworkers and family, I was able to trust God and his plan for me. Because of my experience with Breast Cancer, I have realized that we are not always in control of our situation. God is ultimately in control and we must trust him in all circumstances. He will carry us through.
My favorite quote is: The will of God will never take you, where the grace of God cannot protect you.
I am so thankful for my physicians, nurses and caretakers involved in my case, especially my oncologist, Dr. Robert Birdwell MD from Texas Oncology. He is a fantastic doctor, and the staff is very patient and compassionate. I am uncertain what my fate would have been if I had not had my yearly checkups and mammograms. I had no history of breast cancer in my family and no risk factors other than being overweight. A special thanks goes out to Dr Thomas Molina, Laboratory Medical Director at Christus SETX Health System, for his wealth of knowledge, compassion, encouragement , and patience with me as he explained the details of my pathology reports. I am especially grateful for Dr Molina's compassionate bear hug I received after hearing the diagnosis of cancer. He knew I needed that.
My advice to all women is to do monthly self -breast exams and have regular checkups and mammograms yearly. If you have any concerns, discuss them with your doctor promptly. Take charge of your own health, be proactive and question everything. I know this because early detection saved my life!